This is only
the beginning
Deploi is committed to the health, wellbeing and futures of the military community today and tomorrow. Explore the next phase of our journey and discover how our network of support will grow.
Veterans will become even more in touch with their health
Deploi's health and wellbeing check-in app will revolutionise the way veterans check-in with themselves and provide support services with clearer insights.
The gap between the military community and support will close
Deploi increases connectivity between those who need help and those who understand.
Deploi's wellbeing network will continue to grow
Deploi's network of endorsed practitioners and MFOs will continue to expand, ensuring a growing global movement of military-supportive services, organisations and practitioners around the globe.
Vetted service network – launching 2023
Deploi's all-in-one nexus of endorsed health professionals and MFOs will make finding, reviewing and engaging with the right guidance easier than ever.
It's a two-step process. Simply search and connect!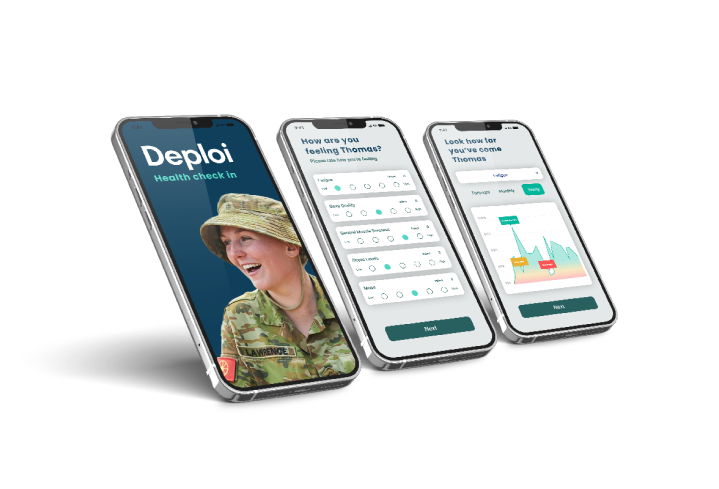 Wellbeing check-in app
Deploi's pioneering app allows veterans to note their health, feelings and experiences day-to-day. With the ability to upload health results, self-check-in and view progress trends, veterans are able to better understand themselves.
Not only an actionable notebook, the app opens up communication with other people within the military community to build strength in shared experience.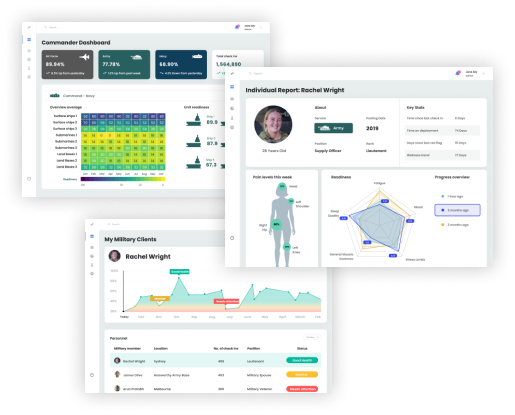 Analytics dashboard
Deploi's analytics dashboard allows the military community to confidently stay in control of their health. It consolidates check-in data, test results and appointments in a way that helps them visualise their progress towards their personal goals. The data can then be drawn upon by appropriate support networks to provide a clear, strategic and measurable care plan. 
Look forward to the heightened personalisation and optimisation of support that leads towards longlasting wellbeing.
Join Deploi
Be part of the change
Connect with genuine support
The Deploi community is here for you, just as you were for the community.
Outstretch transformative support and opportunities to the military community
Extend quality and specialized care to the military community