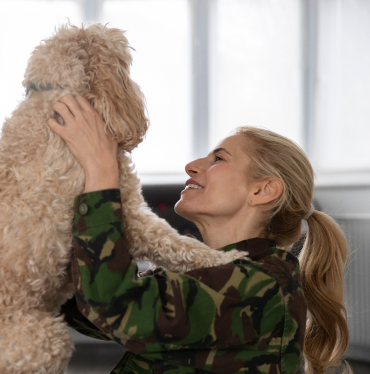 From celebrities who have opened up publicly about their struggles with mental illness to the growing number of people starting conversations online, mental health is becoming one of the biggest points of discussion around the world. The growth in awareness means more and more people are reaching out for help, which is the first step on the road to managing wellbeing. 
While we're seeing a real shift in public attitudes for some parts of the community, it became clear to us that the military population isn't experiencing the same level of change. We saw the people in our own lives struggling and it got us thinking… 
The military experience is one like no other. Each stage of the journey brings its own challenges, which impact the veteran and their loved ones in different ways. Just from our own experience as veterans, we knew something had to change. And that's where Deploi was born. 
The Deploi mission
Deploi is creating the future of military healthcare. We're on a mission to connect active and ex-serving military and their families to specialised healthcare providers across the globe. We believe there's no one-size-fits-all approach to military-related challenges, which is why Deploi was built specifically to respond to the unique circumstances of each and every person.
Why now?
Simply put, the rates of mental health cases in recent years among both serving and non serving Australian Defense Force members is alarming. The recent Royal Commission Enquiry on Veteran Suicide interim report found that our community experiences significantly higher rates of mental health challenges than the general population.
| | | | | |
| --- | --- | --- | --- | --- |
| | 2018 Report | 2019 Report | 2020 Report | 2021 Report |
| Serving Males | 10.6 | 12 | 11.5 | 11.3 |
| Reserve Males | 11.8 | 12 | 12 | 12.5 |
| Ex Serving Males | 26.2 | 27 | 28.4 | 29.8 |
| Ex Serving Females | 9.9 | 15 | 15.8 | 14.9 |
We also know that mental health doesn't just impact your emotional wellbeing. In fact, it has a flow on effect that comes into play with every component of your health. From your physical activity to your social life, the research shows just how much some people are struggling in the military community. The fact that the statistics are increasing also shows that what's being done now isn't working. 
In response, the report recommended focusing on improving the transition to civilian life, access to support services, simplifying veterans' legislation, improving access to information for loved ones, improving the claims system and removing the backlog. When asked why they were struggling in these areas, many in the military community said they simply didn't know where to turn. In some cases, there isn't really anywhere to turn to.
Finally, a space committed to military 
We knew something had to change. Rather than waiting for someone else to do the work, we set out to do it ourselves. Through the Deploi directory, you'll gain access to a directory of diverse service providers bound by their understanding of the military community. The result is an intersection of people aligned by their experiences and values working together to mobilise confidence in the everyday. No matter what kind of support you're looking for, we have professionals on-call to help. 
On our platform, you can connect with: 
Psychologists

Physiotherapists

Exercise physiologists

Specialists

Surgeons

Personal trainers

Life coaches

Clinics and fitness studios

Programs and charities
Our innovative technology puts the control back into your square. Not only can you find the practitioners you need to boost your wellbeing, you can also monitor your health and keep all your practitioners in the loop. From test results to upcoming appointments, you'll find everything you need in just a few clicks. The easy to use interface will store all your data and share it with the professionals that need it – without compromising your security. 
But this is just the beginning 
We're also running challenges to serve our community. Alongside vetted professional support, we aim to become a meeting point for service people and their families to share experiences, check in with each other and build strength through connection. 
As part of our roadmap, we're planning to launch weekly challenges aimed at getting people back into fitness and giving them a place to connect with others – regardless of location. We're also partnering with a range of organisations throughout the community to ensure there are some fun prizes up for grabs, because who doesn't love prizes! 
There's strength in numbers
No matter where you sit in the military community, we want to give you a space to interact with people that just 'get it'. We're all facing our own challenges, yet we're united by experiences that few other people will ever grow through. The key to tackling the pressing health trends we're seeing is to band together, build our support networks and foster meaningful alliances with like-minded individuals. 
The Deploi mission is more than just what we do – it's how we'll change your life and guide you on the journey towards enduring wellbeing. It would be our pleasure to do so. Because no-one in the military community should walk alone.